Customer Reviews
01/04/2021
Michelle L.

Canada
New Favourites - Perfect Fit!
I absolutely loved the fit of these high waisted leggings! They are ultra soft, have sturdy seam stitching and stretch with you during a workout without losing shape. They have pockets which are also a must for me at the Gym. Have already ordered another pair - well done Fit Army!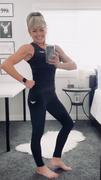 11/27/2020
Sandra D.

Canada
Black leggings with pocket
The best !!!
10/14/2020
Estelle L.

United States
Indispensable
Perfect fit! Love them! And AMEN for the pocket! Could wear them 24/7, so comfortable.
06/19/2020
Carly

United Kingdom
Favourite Basic Leggings
These are my faaaave black leggings just because they have pockets!! The quality of the fabric is great as well - they're bloody comfy!
03/01/2020
Stephanie F.

Canada
Feather black high waisted leggings with pockets
These are by far my favorite fitarmy leggings, they fit like a glove on my body!! The material is soft and the pants adjusts to you. No camel toe and they have pockets which are both a big plus for me!!! I wear Medium, I'm 5"3 and 130lbs :) I prefer these over lulus or any other overpriced brands